So sorry that Drab to Fab made a non-appearance last week - our internet was shaped due to excessive download and I was unable to blog! The HORRORS!
But, all back to normal this week...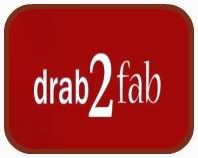 Drab to Fab is all about making the choice to treat ourselves well, so that we feel good.
If we aim to treat ourselves well, to nurture ourselves, to treat ourselves kindly, we can feel fab, instead of drab.
Simple as that really.
So it's not about dieting, or about going from "fat to fit."
It's about any component of your world moving from drab to fab.
It's about renewal. About taking care of yourself, and doing things that make you happy, in whatever form that takes.
Today, I am taking a day off work to take some time out for myself. I am going to get my house in order and do some writing. My world is very over busy at the moment and I can sense my anxiety levels rising to horrible levels. I don't even know how to turn this around, so I am just going to take the opportunity for some time to myself. To take my drab mood to the promise of something a little more fab.
All you need to do to take part is: follow Diminishing Lucy, link up any post of yours that suits, and then share the love by commenting on some of the other blogs that link up.

I'd love it if you grabbed the Drab to Fab button too? Pop the button in your sidebar, or in your post?