On Saturday, I took part in the Weekend Rewind - a lovely linky that Allison of Life in the Pink Fibro runs.
I came across an old post of
Gill and Nic's at Our Park Life,
which outlined some fail proof blueberry muffins.
And blueberries are in season at the moment - and I managed to score a load for $2 a punnet.
Hence I was inspired to make these muffins yesterday.
Healthy Blueberry Muffins
3 cups wholemeal self raising flour
1½ cups blueberries
3 eggs
1½ cups apple juice
Preheat the oven to 180`c and spray a 12 cup muffin tin with spray oil
In a large bowl, sift the wholemeal flour. (Can I tell you I cannot be bothered with sifting? I just ran a balloon whisk through the flour instead.)
Add the blueberries and mix into the flour
In a separate bowl, whisk the eggs and then add the apple juice and combine.
Add this liquid to the flour and blueberries and combine - DO NOT OVER MIX! (Nic says - "So if you look in your bowl and see a bit of flour and egg not combined do not touch it. This is perfect.")
(Can I point out there that I find this REALLY hard. I physically have to restrain myself to creaming that batter smooth? What is up with that?!)
Spoon into the muffin tin and bake for 25 mins.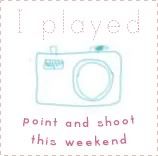 What did YOU get up to this weekend?